Things to Know About Cleaning Hardwood Floors
With the dramatic gain in popularity of wood floors in recent years, more and more consumers are turning to cleaning professionals for maintenance advice and services. Following are of the most frequently asked questions and answers about hardwood floor cleaning.
Do different types of wood grains affect the cleaning of hardwood floors?
Absolutely. A lot of the wood floors you see today are different than what you would typically find in your mother's or grandmother's home. They no longer are all one color, with a smooth, elegant finish, but often contain visible character marks such as knots, checks or splits. Some are even hand-scraped to give them the old rustic look. This is called open, rustic or character grain.
Do wood floors have different finishes? If so, will that affect how they are cleaned?
This is perhaps one of the most important factors when it comes to cleaning hardwood floors. Depending on the manufacturer, each floor has different finish characteristics and will need a different cleaning product or system to properly maintain that finish
How would I know what cleaning product to use on which type of hardwood floor?
You should always defer to the manufacturer guidelines and never assume what type of floor finish is on the hardwood floor, as it is often impossible to tell. This is especially true when it comes to hard wax oil finishes. Because each manufacturer develops its own finish system and its own proprietary cleaning/maintenance formulas, you will need to use a product-specific system to ensure lasting beauty of the wood floor. If the wrong cleaning system is used, you may end up permanently damaging the floor.
When cleaning hardwood floors, what are the most effective cleaning products?
An effective and product-specific cleaning solution, a spray bottle and a cloth is typically all you need. A good rule of thumb for the quantity of floor cleaner is one quart of cleaning product for every 500 square feet of flooring. Although, if your floor is one with a rustic or character grain, you will want to use even less as the cleaning product tends to accumulate into the checks and cracks in the grain.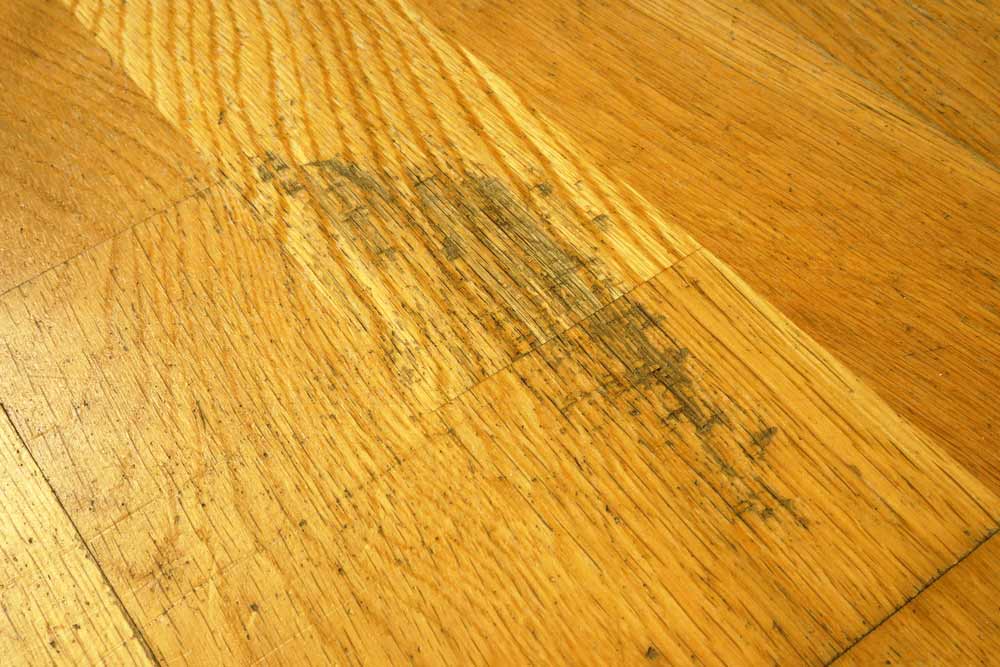 How To Restore and Care For Your Solid Wood Floor
If you are wondering how to restore and care for your solid wood floor, you've come to the right place. Solid wood flooring is a sound investment for your home, with its striking good looks holding fast for many years to come. If maintained properly it can last for tens of years, meaning there's no need to think about replacing your floors for a long time once you've installed your solid wood floors. However, accidents happen, and if your solid wood floors are beginning to look a little tired then you may be considering whether to repair or renew them. To help you decide we've put together a comprehensive guide for the maintenance and care of your solid floor.
What kind of care does your hardwood floor need?
The first question you need to answer is what kind of care your floor needs. This can range from resurfacing and refinishing to applying new stains and varnishes. Read on and find out exactly what your solid wood needs to look like new.
Should I repair or renew scuffs?
Scuffs are bound to occur over time, no matter the material of your floor. If this is the issue when you're deciding to repair or renew your solid wood floor then, depending on the extent of the damage, we would recommend repairing the damage.
Should I repair or renew scratches?
Scratches are an unfortunately common mark to occur to solid wood floors and can be caused by wearing heeled shoes, pets claws or fine dust and dirt. If the scratches on your floor are fine then simply sanding and refinishing should be sufficient. If, however, the scratches are more like gouges, then it may be advisable to replace the boards altogether, as sanding a scratch that's particularly deep could lead to you sand too much of the board away.
Should I repair or renew dents?
Dents can occur from heeled shoes, heavy furniture or dropping heavy items on your wooden floor. As a dent is simply a compression of the wood fibre it is possible to repair it by applying some water to the site of the mark, covering with a cloth and ironing over it gently. The water will expand the wood as the iron will force the water to rise upwards, expanding the wood as it does.
Should I repair or renew water damage?
Water damage is one of the worst forms of damage for a solid wooden floor. To repair or renew this damage, your only option, in this case, is renewing your floors. If you wish to minimise the cost of a complete renewal of your solid wooden floor then you can try replacing the boards that are affected, though the colour may be slightly different from your original boards.
Hardwood floors
Most property owners think that to get that new-again sheen they have to sand down their floors, restain them, and reseal them. However, if the wear is fairly surface-level (normal wear, scratches in the finish and only a few deeper scratches that gouge that wood itself), it's easy to refresh your hardwood floors in one day and save yourself from the mess, labor, and expense of sanding off your existing finish.
Approaches to Refinishing Hardwood Floors Without Sanding
Use a store-bought chemical abrasion kit
Buff and recoat floors with polyurethane
Use a revitalizer
Pro tip: When you make the decision to touch up your floors yourself, it's best to do it between tenants—that way, you're not moving furniture in and out, nor are you forcing your residents to relocate for 48 hours. Read along to find out if this is the best way to renew or restore your floors.
Figure Out What Kind of Hardwood Floors You're Working With
Before you dive into any DIY home project, it's important to know the materials you're working with. This is especially important if you're not the original owner. Different floor materials or treatments will have an impact on how you are able to refinish your floors, and you want to make sure you take the best and most effective approach.
Refinishing Prefinished and Laminated Hardwood Floors
Whether you have traditional hardwoods, prefinished wood, or laminated wood, restoring without sanding is a practical solution. Though you can sand your traditional hardwoods, it's difficult or even impossible to sand prefinished or laminated wood floors. Why? Laminated floors (either glue-down or floating) only have a thin layer of attractive wood veneer over plywood, so you can't sand these floors more than twice without damaging them and exposing the plywood.
Staining Hardwood Flooring: What To Consider Before You Stain
advise plenty of homeowners about staining hardwood flooring. Whether you've recently purchased unfinished wood, or you want to transform your space, your flooring is one of the grandest statements that you can make. With stain, you don't have to replace floors to get a new look. However, staining is a larger process than some expect, so it's important to be prepared. Here are the top things to consider when debating whether you stain your floors or not
What Color Should I Stain My Hardwood Floors?
Choosing what stain would work best for your wood flooring is a big decision. One way to make sure the color fits is by considering the theme of the room. While dark has a dramatic flair, a light stain might make the room feel more open. In general, stained wood makes a room feel warmer. You can look at home magazines or take a trip down to the hardwood store to browse colors. Consider the color scheme of the room and the feeling you want it to have to help you determine the color that best fits your flooring.
What is the Condition of the Floor?
Before you decide on a stain color, really inspect your hardwood flooring. If you have blemishes or scratches in the wood, you might consider a darker stain, so to cover up those visual imperfections. However, lighter stain is easier to maintain because scratches and dents are much less visible if they happen.
Process of Staining Hardwood Flooring?
Staining is a popular DIY project for Colorado home owners. If you're up for the task, here's a general breakdown of how to stain your floors:
Remove everything from the room. If you have carpet on the wood, you'll have to pry it all up
Sand the Flooring: rent a sander, or hire a professional
Sweep and Mop: make sure all of the debris is picked up completely
Apply Stain
Apply Top Coat
Do I Need to Re-Finish my Hardwood Floors As Well?
Refinishing hardwood flooring involves sanding down the top layer of the floor, and then applying a new top coat and stain. Hardwood floors should be refinished if there are multiple blemishes, if there are planks bending upwards, or if the flooring is starting to age. Staining is a great option when you have unfinished wood or would like to change the look of newer wood. Staining still needs a sander to get rid of that top coat, however. Ask a professional flooring contractor if your floors need refinishing.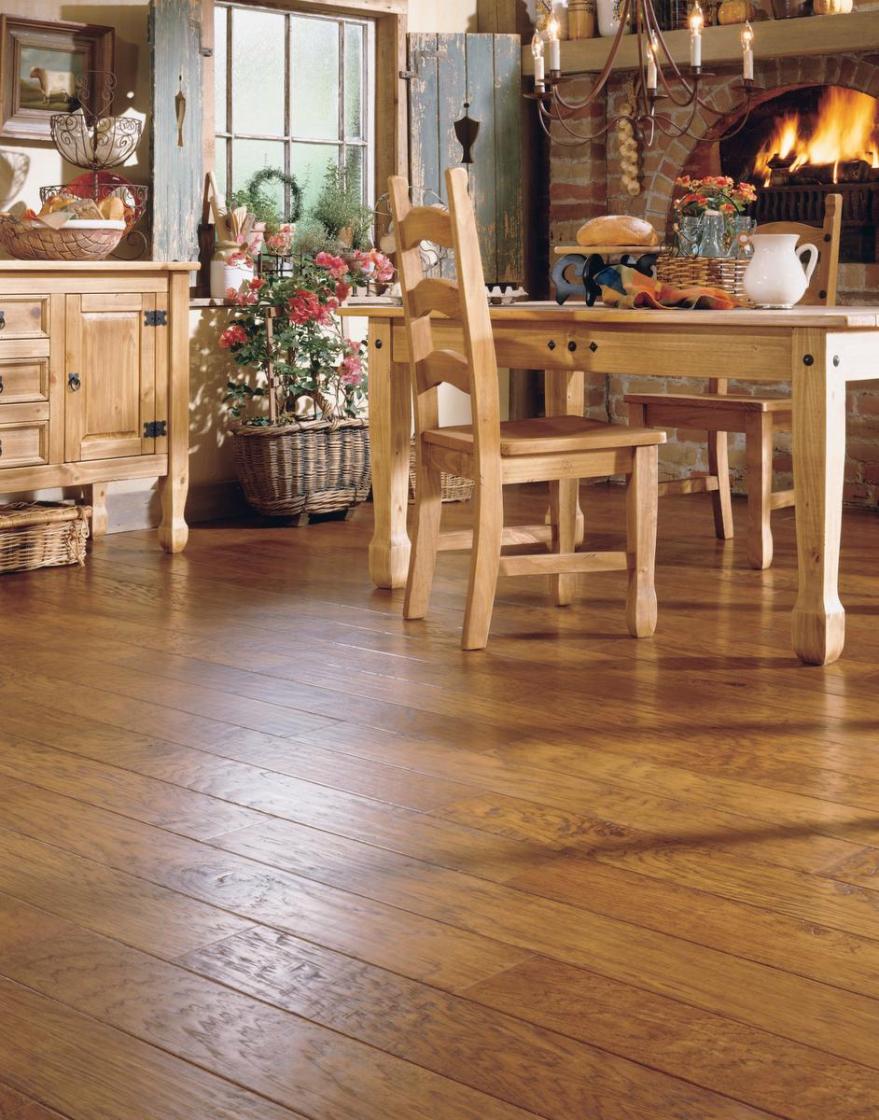 Should you install hardwood floors?
Hardwood flooring is considered a hallmark for floor covering. It has been used for ages and gives a warm and inviting look to any home. The reason I can say "to any home" is because these floor coverings range from elegant to rustic in the choices. You can install this flooring in a contemporary home as well as a traditional one. Wood always emits a feeling of hominess so covering the floor in wood will naturally create a welcome emotion.
There are those who are afraid of using wood as their main flooring throughout the house. Perhaps some cons you've heard come from these facts. Solid wood flooring is 100 percent hardwood that is milled from lumber. Since it is a natural material, hardwood reacts to changes in its surroundings such as moisture and extreme temperatures. These can cause solid wood to shrink or expand. All solid hardwood can be sanded and refinished if needed over the years so they do last forever but there is that maintenance that needs to be addressed. Solid hardwood is not recommended for installation in bathrooms and in kitchens because of moisture in those rooms.
Using wood on stairs is beautiful but noisy. With bedrooms upstairs and possibly sleeping children, the wood stairs will send noisy footstep sounds all over the place. Also, safety is an issue. A wood stair is slippery, unlike one covered with carpet. A wood stairs with a runner up the middle will solve those problems. Realize though, that you are paying for the wood (not cheap) then covering with rug. Nevertheless, it is absolutely beautiful.
Here are some pros. Consider engineered wood flooring. It is built up of layers of wood consisting of three to ten layers that are glued together. This multi-ply structure gives engineered wood superior stability, which reduces concerns associated with shrinking and expanding when temperature and humidity change. Engineered wood can be installed in kitchens and in bathrooms so no worries there.
Consider a laminate flooring. It has four layers consisting of a wear layer, a design layer, an inner core layer and a backing layer. This layered construction makes laminate floors remarkably durable. And it looks very much like a regular hardwood floor.