How to Wire an Electrical Circuit Breaker Panel
This overview describes how a professional electrician connects a residential electrical circuit breaker panel to the main service wires coming into the home, and to the individual branch circuits in your home. This is not a DIY project for most homeowners. Connecting a breaker panel is very dangerous work if you are not an expert, and in most communities, the building codes may not even allow you to do this kind of major electrical work yourself. It requires coordination with the electrical utility company.
example assumes that the electrical panel is being installed on the wall of a utility area near the point where the main feeder wires come into the home, and that all branch circuit cables and conduit runs are already installed. In a new home construction or a major rewiring project, the last step will be connecting all the wires to the circuit breaker box, as described here.
Check Feeder Wires for Power
The electrician first makes sure the electricity to the feeder wires has been shut off by the power utility company. They will check the feeder wires with a voltage tester to ensure that this is the case.
Open Knockouts in Box
The electrician then opens metal knockouts for the main service conduit as well as for each branch circuit that will enter the breaker box. Yet another knockout may need to be opened for the main grounding wire. The knockouts are the round metal discs visible in the top, bottom, sides, and back of the box, of various sizes to match different sized conduits that may need to connect to the box. The electrician uses a chisel or old screwdriver to open the knockouts. They may do all of these at once, or start with only the knockout for the main service conduit, then open the knockouts for the branch circuits later, as individual circuit wires are run.
Mount the Circuit Breaker Panel
Next, the electrician positions the circuit breaker panel, levels it, and anchors it to the wall with screws or anchors driven through the back of the panel and into the wall. If the holes don't align with studs behind the panel, they may drill additional drill holes in the back of the panel to accommodate the installation or mount a piece of plywood to accommodate the panel.
Electrical Circuit Requirements for Kitchens
A kitchen uses more electricity than any other room in the home, and the National Electrical Code stipulates that it should be amply served by multiple circuits. In a kitchen that uses electrical cooking appliances, this can mean it needs as many as seven or eight circuits. Compare this to the requirements for a bedroom or other living area, where a single general-purpose lighting circuit can serve all the light fixtures and plug-in outlets.
At one time, most kitchen appliances were plugged into ordinary general outlet circuits, but as kitchen appliances have become larger and larger over the years, it's now standard—and required by Building Code—for each of these appliances to have a dedicated appliance circuit that serves nothing else. In addition, kitchens require small appliance circuits and at least one lighting circuit.
Be aware that not all local Building Codes have the same requirements. While the NEC (National Electrical Code) serves as the basis for most local codes, individual communities can, and often do, set their own standards. Always check with your local code authorities on requirements for your community.
Kitchen Wiring in Older Homes
In older homes that have not had their wiring systems updated, it is very common for kitchen wiring to be undersized for the electrical demands of a modern kitchen. It is not uncommon, for example, for a kitchen to have only two or three circuits, and for basic appliances such as the refrigerator, dishwasher, garbage disposal to be powered by the same general-purpose circuit that powers the light fixtures and countertop receptacles
Generally speaking, older wiring systems are allowed to remain in place ("grandfathered in") when a kitchen undergoes modest remodeling efforts, such as simple replacement of appliances, flooring, and countertops. However, during major remodeling projects that require building permits, you may be required to bring your kitchen fully "up to code," and this very likely will require adding several electrical circuits.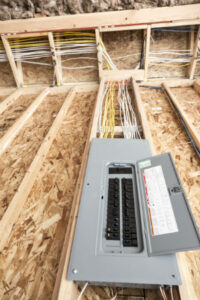 What to Do When Your Circuit Breaker Keeps Tripping
Q: Every few hours—sometimes minutes!—my living room and one side of my kitchen lose electrical power. Lamps won't come on; I can't make toast or watch television. I'll check the breaker panel and, sure enough, a circuit breaker has tripped…again. I flip it back on and all is well until it happens again! I'm concerned about the wiring in my home. Should I call an electrician, or is there a simple DIY fix I can try first?
A: While it's frustrating to have to keep switching a tripped breaker back on, keep in mind that a circuit breaker is an important safety mechanism. Designed to shut off the electrical current when something goes wrong, it's one of the best ways of protecting your home from an electrical fire. You may ultimately have to call an electrician to deal with whatever causes your circuit breaker tripping—electrical current isn't something to mess with—but a little sleuthing will help you see if it's something easily remedied.
First, let's review some basics to help you understand what might be happening. Electricity from your local utility company runs through a cable directly to your breaker panel (service panel). From there, the electricity flows through individual circuits (a circuit is a wiring loop that starts and ends at the breaker panel). Each breaker you see in the panel has an ON/OFF switch and controls a separate electrical circuit in your home. When a breaker trips, its switch automatically flips to the "OFF" position, and it must be manually turned back on in order for electricity to flow through the circuit again.
Test for circuit overload.
A circuit overloads when more electrical current is being drawn through the wires than they can handle, causing them to overheat and trip the circuit breaker. You mention that when the breaker trips, power goes out in your living room and part of your kitchen. This indicates that a single circuit is powering multiple outlets and switches, which is probably too much of a burden on the circuit. This type of wiring configuration is commonly seen in homes more than 40 years old, before we used a lot of electrical appliances and gadgets (big screen TVs, PCs, space heaters, and powerful kitchen appliances).
To test for circuit overload, the next time the breaker trips, go to the electrical panel and turn off all the switches in the affected area and unplug all appliances, lamps, and other devices. Flip the breaker back on and then turn on the switches and plug in/turn on devices one at a time. Wait a few minutes in between to see if the circuit will remain on. Each time you turn on a light or run an appliance, you'll be drawing more electricity through the wires. If the breaker trips before you turn on all the appliances, try the experiment again, this time turning on the appliances in a different order. You may need to go through the process several times to get a good idea of how many appliances you can operate at one time before overloading the circuit.
Circuit overload is one of the most common reasons for circuit breakers tripping, and you can prevent it from happening by running fewer appliances at the same time on that circuit. The best long-term solution, however, is to have an electrician update your home's wiring to add additional circuits. In your situation, having a separate circuit to handle the part of the kitchen that's now on your living room circuit would allow you to use your kitchen appliances (mixer, bread machine, toaster) without fear of overloading the living room circuit.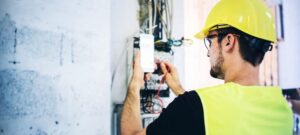 New Electrical Circuits
Just because you have sufficient power for your home now is no guarantee that it is going to accommodate any additional demands that you place upon it. While many home-owners are under the impression that just adding circuits to the breaker box will handle any additional demands, this isn't always the case.
Most homes are outfitted with an electrical panel that is suited to its electrical requirements, with a little room for increased electricity. Adding a circuit or two might be just fine to accommodate your new electrical needs, but it's quite easy to exceed the safe threshold if you're not careful.
When do you need to look into adding circuits or updating your electrical panel?
Any time you add an appliance to your home, you are increasing the demand on the electrical system. Consult with a licensed electrician before hooking up a major appliance to determine if your system is ready for the added load.
Whenever you set up a big holiday light display, this is one of the leading causes for needing upgraded circuits. Hot tubs draw a lot of electricity and are almost always a time for installing new circuits and potentially upgrading your electrical panel.
If adding a new room to your house or other additional square footage is added, this will need to be accommodated by adding one or more new circuits to the system. Depending on the size and electrical requirements of your addition, the increase in amperage could require updating the electric panel as the only viable option.
How Much Does It Cost to Hire an Electrician?
Electricity is an important and integral part of every home. And if you are updating any part of the electrical wiring, lighting, or panels in your home, you need to make sure that it is done safely and correctly. That means hiring an electrician to do the work. They can handle many project types from simple outlet installations to completely rewiring your home.
Electricians charge between $40 and $100 per hour for most jobs. Low-cost projects, such as installing an outlet, start at around $85, whereas high-cost projects like upgrading a circuit panel can cost as much as $11,000. The national average cost for hiring an electrician is between $300 and $9,000, with most people paying around $399 for a new ceiling fan installation.
Electrician Cost Per Hour
Electricians typically charge between $40 and $100 an hour, which is influenced by where you live and the electrician's license grade. There are three grades – Apprentice, Journeyman, and Master. To achieve each grade, electricians must meet specific testing requirements
Apprentice Electrician
To receive an Apprentice license, the electrician needs to complete hundreds of hours of classroom work, as well as 8,000 hours of supervised on-the-job experience. Apprentices can complete many basic electrical tasks, such as installing outlets and light fixtures, and they charge an average rate of $40 to $50 an hour.
Journeyman Electrician
A Journeyman electrician has completed their apprenticeship and taken and passed the Journeyman electrician exam. They are qualified to take on more complex projects in your home, such as wiring and installing an electrical panel or car charging station. They charge $50 to $70 an hour on average.